Bridesmaid is the closest people to the bride. Usually bridesmaids wear uniforms at every wedding. And now, in modern wedding blog has some color references for bridesmaid! Lets see!
1. White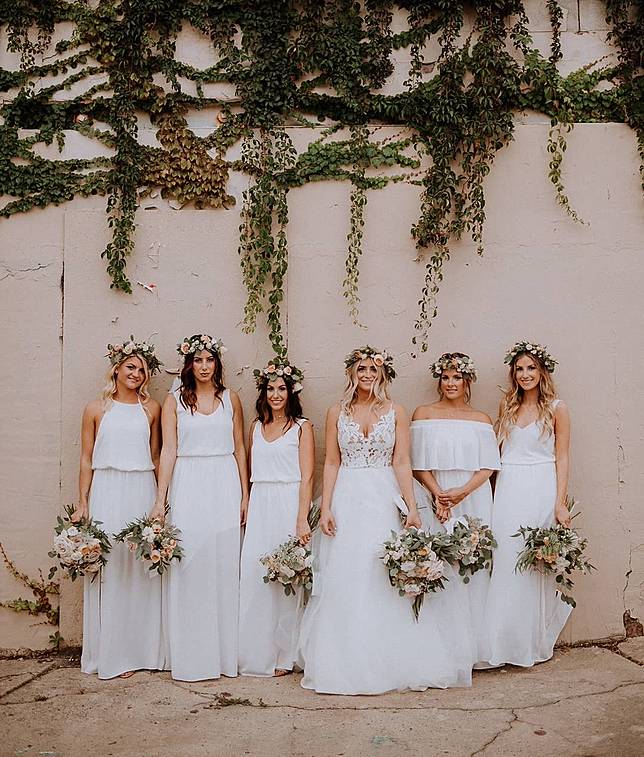 You can make bridesmaids dresses with simple details, or off shoulder. White dresses for bridesmaids are fine, as long as they are not more excited than the wedding dresses!
2. Burgundy
This model of tulle dress is perfect for bridesmaids gowns. Who's with me?
3. Nude
Still with the tulle dress model, the nude color dress is really pretty huh? Such a lovely color!
4. Dark Green
do you like sexy? High slit dresses are the best choice!
5. Violet
Look at these violet dresses! So beautifull !
6. Burnt Orange
Like the muted colors? Earth tones is a perfect match for your bridesmaid dress. Especially if the photo is against a background of wooden walls, it looks more aesthetic!
7. Navy
Warna biru dongker asyik juga untuk inspirasi warna bridesmaids dress. Biar penampilanmu makin cantik, jangan lupa bouquet flowers-nya ya!
8. Maroon
Enough with the simple details that already make your dress really cool, cause Maroon is elegant color!
9. Grey
It turns out that the gray color is very suitable for bridesmaids dresses. You can make a dress with lace details so your dress is more beautiful.
10. Soft Pink
Almost everyone likes pastel colors, soft pink one of them. As a favorite color, do not be surprised if many brides choose this color as the color choice for bridesmaids dresses that their friends will wear.
Anyway, have you found out which bridesmaids dress color is right for your wedding? Whatever your decision, hopefully your dream wedding can come true huh!
Source : idntimes.com